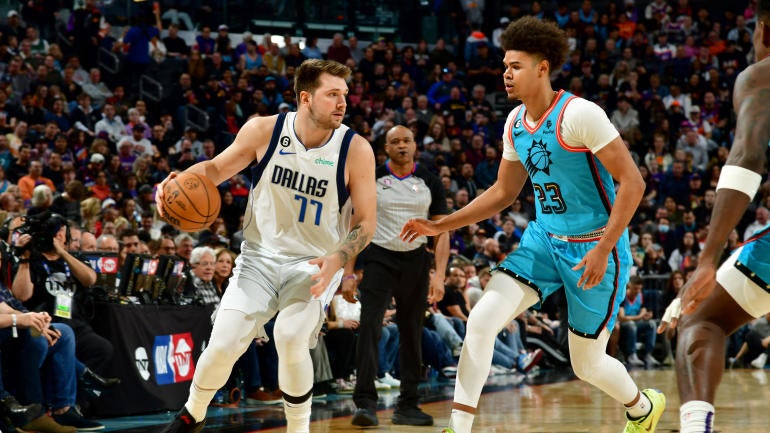 Getty Images
Freshly-named NBA All-Star starter Luka Doncic gingerly walked off the floor with an ankle injury in the first quarter of the Dallas Mavericks game Thursday night against the Phoenix Suns. Per Chris Haynes on the TNT broadcast, an X-ray of Doncic's left ankle was negative. 
Mavericks coach Jason Kidd offered little in the way of an update during his postgame press conference following the team's 99-95 road win.
"He looked good, looked fine," Kidd said. "But we'll see how he feels as we go forward here. We'll have probably more information once we get to Utah." The Mavericks play the Jazz on Saturday night. 
With just under nine minutes to play versus the Suns, Doncic tried to drive to the basket but was cut off by Cameron Johnson and had to spin back the other way. As he did so, he stepped right on Mikal Bridges' foot and awkwardly rolled his left ankle. He immediately winced in pain and hobbled back down the floor. After Torrey Craig hit a 3-pointer, the Mavericks called a timeout to get Doncic out of the game. 
He went straight back to the locker room, and while he was able to get there under his own power, he was not moving well at all and constantly grabbed at his ankle and foot. 
Doncic's ankle has been giving him issues for a few weeks, and he's popped up on the injury report on a regular basis. However, he's only missed two games along the way, one on Jan. 8 vs. the Oklahoma City Thunder and another on Jan. 15 versus the Portland Trail Blazers. 
When Doncic has been on the floor lately, he's performed to his usual level; in his last outing prior to Thursday, he put up 41 points, 15 rebounds and six assists on 16 of 29 from the field in the Mavericks' loss to the Washington Wizards. For the season he is leading the league in scoring at 33.8 points per game.
Prior to Thursday's game, Doncic was named a starter for the 2023 NBA All-Star Game in Salt Lake City next month. This will be the fourth consecutive All-Star appearance for Doncic, who has made the game every season since his rookie campaign.