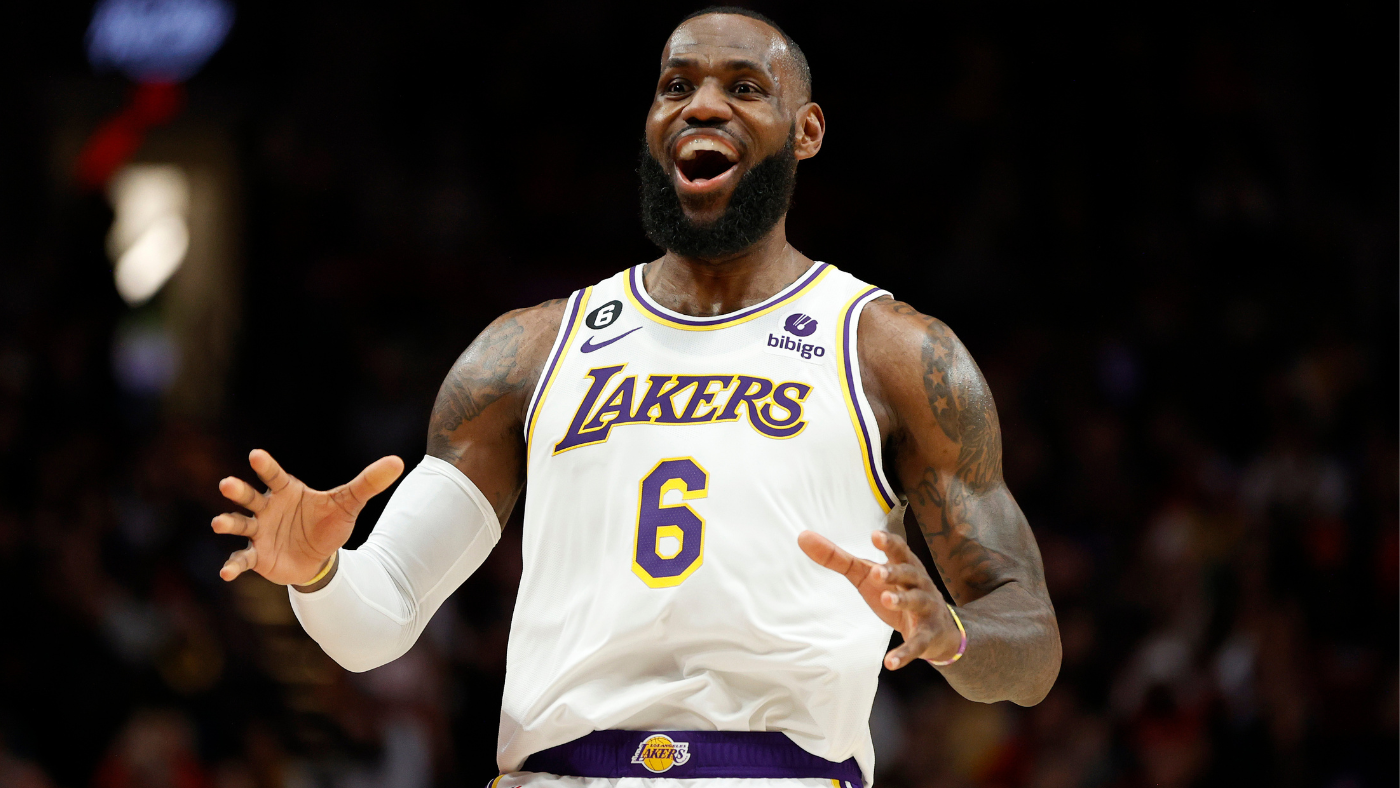 LeBron James has officially hit the home stretch of his pursuit of Kareem Abdul-Jabbar's record for the most points in NBA history. After Saturday's game against the Boston Celtics, he is 117 points shy of owning the career scoring title. The Lakers may have lost this game in heartbreaking fashion, especially for James, who was furious with a non-call on his possible game-winning layup. 
But LeBron certainly did his part, scoring 41 points in an overtime defeat. (We had projected that he would score 29 points.) He finished the night with six 3s, shooting 15 of 30 from the floor. That performance shaved his pace down by a game, and at his season-long scoring average of 30.2 points per game, James would break the record four games from now, in a road date with the New Orleans Pelicans on Feb. 4.
Of course, we know that averages can be a bit misleading.
And there are additional factors, including whether he wants to become the new standard-bearer in road game or in Los Angeles, or whether he can maintain he level of play week after week as a 38-year-old player who has spent more than half of his life performing an extremely high level.
On top of that, Anthony Davis is back in the lineup now. Rui Hachimura needs shots after his acquisition via trade as well. So maybe James gets hot for a few more games. Maybe he's cold. So instead of relying on an average, let's take a game-by-game approach to predict how many points he'll score against each opponent to break Abdul-Jabbar's all-time record.
Monday, Jan. 30 @ Nets: 0 points
The Lakers have been a bit more aggressive about playing James on both legs of back-to-backs recently. In the first four back-to-backs James would theoretically have been healthy enough to play, he participated in both halves just once. In their last four, he's suited up for both legs all four times. The major difference is that Davis wasn't available for the last three of the Lakers' back-to-back sets. Now that he is, the Lakers can be a bit more judicious about when James plays. Nothing would ever keep him out of a Madison Square Garden game, so the Brooklyn contest on Monday becomes the obvious choice. And with Kevin Durant sidelined, it might not even be an automatic loss for the Lakers. — Projected points away from record postgame: 117 
Tuesday, Jan. 31 @ Knicks: 37 points
New York's defensive problems extend well beyond Mitchell Robinson's absence. He's missed the last four Knicks games, but they ranked 25th in defense (119.5 points per 100 possessions allowed) over their past 10. Their best perimeter defender has been Quentin Grimes, who is simply too small to handle James. That will leave RJ Barrett with the job. Barrett is fine defensively, but "fine" is rarely acceptable where James is concerned. Throw in his love of putting on a show for the New York fans and this could be his biggest game of the record push. — Projected points away from record postgame: 80  
Thursday, Feb. 2 @ Pacers: 25 points
The Pacers held James to just 22 points in their first meeting this season, but the greater concern here, even if it makes a win more likely, is that the absence of Tyrese Haliburton creates conditions for a blowout. The Lakers aren't going to push James into extra minutes if this game isn't close. So on the fourth night of a lengthy road trip, James will put up numbers, but he's not going to go crazy. — Projected points away from record postgame: 55
Saturday, Feb. 4 @ Pelicans: 24 points
When a healthy Anthony Davis plays against the Pelicans, he tends to dominate. He scored 87 points combined in two meetings against his old team in 2020. The trouble is, either the schedule or injuries have weakened him for most of his subsequent matchups. Now that Davis appears to be relatively healthy, he's probably going to do the lion's share of the scoring for the Lakers in this one. While James is currently on pace to break the record in this game, if he sits out the Nets matchup as we predict and tallies the previous numbers, he would be within striking distance on any night he steps on the floor following the five-game road trip. — Projected points away from record postgame: 31
Please check the opt-in box to acknowledge that you would like to subscribe.
Thanks for signing up!

Keep an eye on your inbox.

Sorry!

There was an error processing your subscription.

Tuesday, Feb. 7 vs. Thunder: 26 points
This is roughly when we should expect the gravity of the record to hit him and for him to start pressing a bit. Remember, Stephen Curry was taking over 14 3-pointers per game in the seven games leading up to his 3-point record-breaker last season, and he was hitting them at only a 34.7 percent clip. So expect a high-volume, low-efficiency game out of James in this one, especially since he'll be spending it in the "Dorture Chamber." Few defenders are better at forcing big wings into shooting jumpers than Luguentz Dort, so this will likely be a relatively quiet James game, but he'll just be a few buckets away by this point. — Projected points away from record postgame: 5
Thursday, Feb. 9 vs. Bucks: 34 points
If you're a conspiracy theorist, here's something to take note of: The Feb. 7 game between the Lakers and Thunder is not slated for national television. The late window game for TNT is the Timberwolves against the Nuggets. But this game? It will be nationally televised as the second half of TNT's back-to-back. Do with that information what you will. Regardless, the pace takes us to Milwaukee, a team James has tended to succeed against. It's a home game for the Lakers, allowing the team plenty of room to honor him. It comes against a worthy opponent, and there will surely be postgame quotes about how Giannis Antetokounmpo — his opposing All-Star Game captain — might be next. It's simply too easy a scene to set. Expect this game to be the record-breaker, and, word to the wise: If LeBron is as close to the record at tipoff as we think he is going to be, this isn't the night to arrive fashionably late.
After nearly 39 years, the NBA has a new all-time scoring king, and his name is LeBron James.